Fort Lauderdale LED Signs
VIEW GALLERY
In the early days of business signage, neon signs were the trend because they're eye-catching and unique. However, they are very hard to maintain, use too much energy, and replacing them is too costly.
Fortunately, as technology evolved in the field of lighting fixtures, LED lights were invented, and they proved to be as eye-catching as neon lights but more affordable to use and maintain. You can even get them in various styles, mimicking other types of lighting like neon lights.
LED lights are also very flexible since you can use them as backlighting to signage, or you can install it in a separate lighting fixture. There are even LED strips that can be attached to existing signs, and some even have animations to make them more eye-catching.
Fort Lauderdale Sign Company has the best Fort Lauderdale LED signs team who can make the LED signs you need for your business. Let our team know where you will use the LED signs, your preferred design for your LED sign, your business targets and budgets, and we'll deliver the LED signs to match your requirements and preferences perfectly.
Call Fort Lauderdale Sign Company at (786) 628-9615 for your Free Consultation with a Fort Lauderdale LED Sign expert!
Indoor LED Signs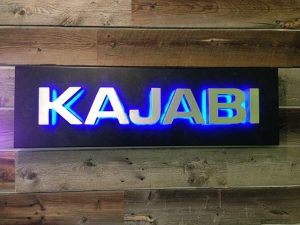 Lighted signs don't just work effectively to get people into your business when installed outside your building. These signs also work well indoors as a way to highlight a certain part of your shop that you want people to focus on or direct them to the right place, like for take-out counters, entrance and exit areas, and emergency exits.
Our Fort Lauderdale LED signs can be tailored to reflect your purpose while also promoting your brand. We can personalize your LED signs to match your desired color scheme, size, shape, and location to make the most impact.
Programmable LED Message Centers
Want a sign that you can program whenever you have an event or have information to share with your target customers? You should invest in programmable LED message centers, which you can have as a standalone sign or an extension sign to your existing ones.
For these signs, you can go all out when it comes to the content you can display in them. You can show images and videos in full color aside from the usual text content you can promote through other business signs. To edit the content, you only have to program it using a special program on your computer and upload it to be displayed on your signs. There is no need to replace the whole sign just to conform to your content.
Fort Lauderdale Sign Company has an extensive range of LED message centers you can choose from and get them customized to the shape or size you want. We will handle all the electrical work to ensure they run safely and teach you how to update your displays regularly. Should these signs have problems, you can contact us, and we'll send our maintenance teams to check the issue for you.
Full-Service Lighted Sign Company
Whether you need LED signs, storefront signs, or even custom signs, you can trust Fort Lauderdale Sign Company's talented team of graphic designers, sign experts, manufacturers, engineers, installers, and maintenance personnel. We offer a full sign service for any client and personalize it to suit their sign needs and budget.
We can make signs based on existing designs or create a new one, providing you with options we believe work to your advantage. We also have a ready supply of sign materials ready to use to make any sign imaginable, allowing us to deliver your signs within your deadline. Our full-service sign service also allows us to adjust our service fees to suit your budget and keep our prices down compared to other sign companies.
You don't have to worry as we make your Fort Lauderdale LED signs for you. We will try our best to incorporate all your design requests in the sign design and get your approval before moving on to the next step. Our goal is to deliver signs that you will be 100% satisfied with to cement us as your best sign partner for your other business sign needs.
Free LED Sign Consultation
Want to wow your target market with top-notch LED signs specifically tailored to your brand?
Don't hesitate to contact our Fort Lauderdale, FL sign company today, and our experts will be with you to create your dream signs whenever, wherever you need them.
Call Fort Lauderdale Sign Company at (786) 628-9615 for your Free Consultation with a Fort Lauderdale LED Sign expert!